2014 was not my best year ever (don't ask, seriously), but it was a really great year for the shows I love to watch. Find out what my made my 'Best of' this year!
Agents of SHIELD
After a less than inspiring 2013,
Agents of SHIELD
has transformed itself into one of my favorite shows and just keeps getting better. I kept watching initially out of loyalty to the holy Whedon name, but to be honest, it felt like sort of a chore. Now I look forward to every episode with what might be termed psychotic eagerness. And freak out over every little thing that happens. If you follow us on Twitter, you've probably noticed. As excited as I am for
Agent Carter
, I can't wait for
Agents of SHIELD
to come back and to find out what's up next for Coulson and co. Side note: the addition of Bobbi Morse, Lance Hunter, and Mack have been especially welcome. Make them regular cast members already!
Arrow
After watching part of the first season, I gave up on
Arrow
. I couldn't connect to any of the characters and Oliver was too broody, even for me. This year, I was encouraged to give it another try because everyone said season two was so much better and I'm so glad I did. The back half of season 2 and the first part of season 3 have been phenomenally fun and entertaining if, at times, extremely stressful. But I'm sure Oliver will be fine. Right? Someone tell me he'll be fine.
#OlicityForever
Doctor Who
Okay, so maybe I'm a little late to the game here. One of my resolutions for 2014 (and the only one I managed to keep) was to finally sit down and watch the show Tumblr cannot shut up about. I liked it well enough at first, but as I kept going on I found myself enjoying it more and more and more. Season 8, while excellent, wasn't quite my favorite, but it was, as previously mentioned, excellent. Capaldi's Doctor, while different than the other Doctors since the show restarted is certainly engaging, but I just can't keep from missing Matt.
Sherlock
Season three was a long time coming but turned out to be worth the wait. The first two were especially amazing and perfect and wonderful and I've definitely not seen them each about a dozen times. The drunk Sherlock scenes were an unbelievable amount of fun. Egg? Chair? Sitty thing? The third episode won't ever find itself among my favorites but it did provide us with one hell of a cliffhanger. And I did miss him.
Orphan Black
After a stellar first season, I was excited but apprehensive about
Orphan Black
's second year. Sophomore slump has defeated more than one show in the past. Fortunately,
Orphan Black
was able to produce a season that was just as good as its first. I will keep recommending
Orphan Black
to every person on the planet and don't think you can stop me. If you haven't seen it yet, check it out! And if you have any sway over the Emmy nominating committee, may I humbly demand the recognition of Tatiana Maslany?
Guardians of the Galaxy
How did they fit so much awesome into one movie? Will we ever know? With its kick ass soundtrack and über dedicated cast (Chris Pratt lost 60 lbs! Karen Gillan shaved her head!) it was definitely this summer's funnest film. There was a gun toting raccoon and everyone in the theater cried over a tree. It just doesn't get better than that.
Captain America: The Winter Soldier
Speaking of all things Marvel, may I present the second installment of the Captain America franchise. It's a rare superhero movie that lives up to the hype (especially when there's this much hype) but
The Winter Soldier
does in every way. It's more than just your standard popcorn ooh look things are exploding this is fun movie. It's also emotional and sweet and doesn't suffer from the failure of having a romantic subplot lazily tacked on at the last minute to appeal to the mythical stereotypical female audience.
The Walking Dead
After seeing The Walking Dead everywhere (and I do mean everywhere) at Comic Con, I was finally inspired to check out the show everyone was talking about constantly. The gore had always held me back, but this time I figured, hey, I can eat during
Hannibal
, it'll be fine. And it was more than fine. It was awesome. Now if they could just stop killing my favorite characters… I'm serious. If anything happens to Maggie or Glenn. Or Darryl. Or Michonne. I'll stop now.
House of Cards
It took me a while to get into
House of Cards
. The first season starts off rather slowly but by the end I was hooked. Season two features no such slow start. If you've seen it, you know exactly what I mean. The second season is thrilling and even darker than the one before it. It's still slow in some places (I never fully got into the China storyline) but it was definitely twisty and twisted enough to inspire me to watch the whole thing in less than a week, only partially inspired by the fear of being spoiled.
Reign
Hear me out! It's less than serious, to be sure, but
Reign
is a fun, soapy historical fiction. It may diverge from the historical record rather magnificently, but when something is this pretty and features a character as awesome as Mary, who cares? I need a silly, soapy, shippy Thursday treat now that
Scandal
's gone off the rails and this fits the bill to a t.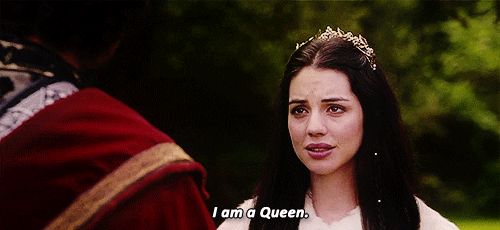 Comic Con
Saved the best for last. As I enigmatically suggested above, this hasn't been a super great year for me, personally. Comic Con was definitely the highlight. Along with my partner in geek crime, Mark Greig, I got to see celebrities including Tatiana Maslany and Natalie Dormer and I even walked right by
Supernatural
's Osric Chau on the street. Which, weirdly, would not have impressed me at home in L.A., but seemed very, very awesome in San Diego. Go figure. We also went to the zoo and got to see
a cheetah and a dog
together which was crazy amazing.
I wish you all a very Merry Christmas
and a spectacularly Happy New Year
- sunbunny